Our Story
Dennis Schlabach started Denco Marketing in 1967 while working as an independent manufacturer's representative. Dennis worked hard and stayed true to a few basic business principles which in turn have made Denco Marketing both grow and prosper.
Those principles are still upheld today, and guide us with our daily contact with customers, employees and suppliers. Those basic principles include providing a quality product, treating people fairly, offering competitive pricing and being dependable. From the desk of company founder, Dennis Schlabach, "We try to always go beyond the expectations of our customers, and every day we strive to fulfill our promise to be responsive and responsible to everyone we do business with."
Today, Denco is still managed with the leadership and guidance of Schlabach. Committed to aggressive growth, Denco now employees a staff of 25 and services customers worldwide. We continue to look forward, to achieve our greatest potential. We reach for that potential through product development, diversification of our extensive inventory and through the personal growth of our staff.
At Denco, we do what we say we will do… believe in treating people fairly… are responsible to you and your employees… assure a quality product at a fair price… and are committed to aggressive growth. We value your relationship and are committed to helping you improve your efficiency, profitability and pursuit of business goals.
Our Team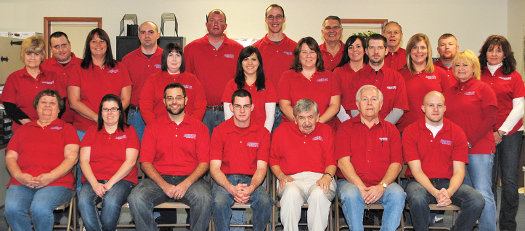 (Front L-R): Judy Coakley, Heidi Stevens, Joe Aufrance, Shane Swart, Dennis Schlabach, Mike Gerber, Kory Yoder. (Middle): Jayne Scheitler, Tammy Miller, Margaret McKenna, Kendel Butler, Jo Landon, Brooke Allison, Harry Franks, Jodi McCracken, Terri Mizer. (Back): Tom Findley, Jon McFarland, Scott Troyer, Randall Cullen, Gene Nevill, Carl Clark, Jon Markel, Sue Rhoades. (Not Pictured): Tel Vaughn